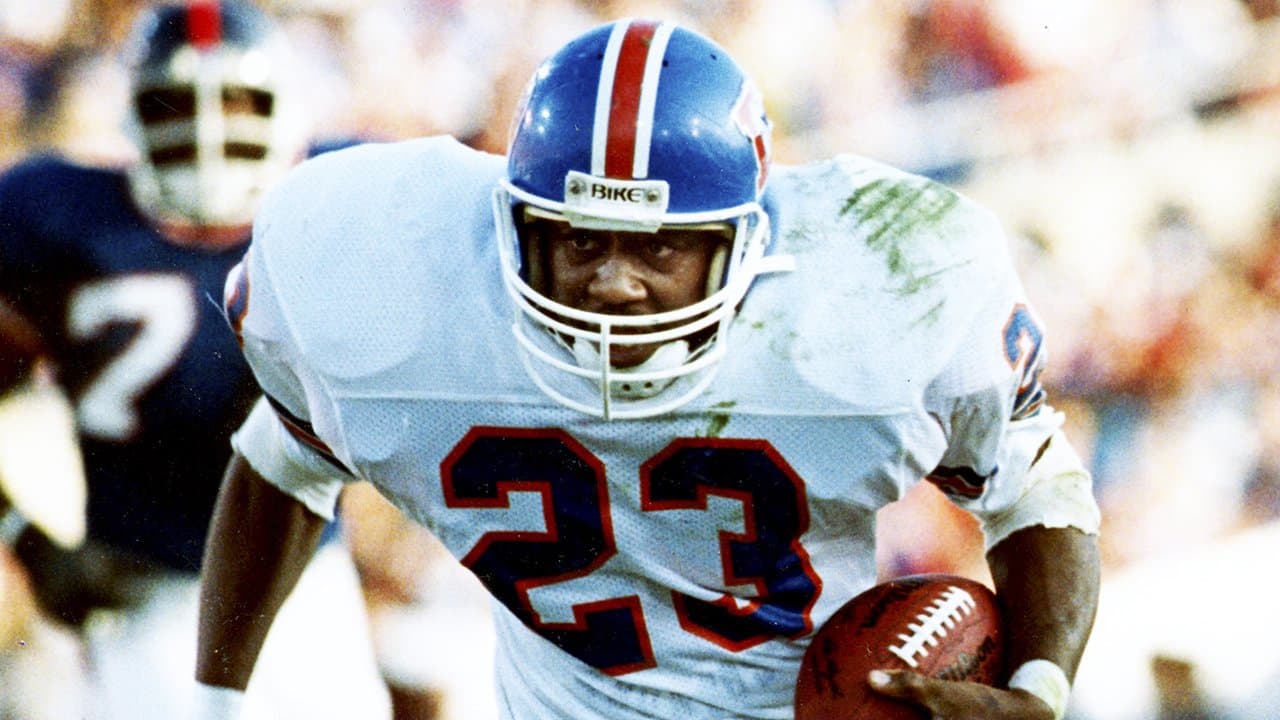 I've had a weird thing in my growth as a sports fan where I like to go find some random player and research his career. Some research experience is short, and some of it is lengthy, sometimes finding the stories is difficult. This one was a little bit of everything. Winder played eight seasons, all in a Broncos uniform. Without any further ado, let's get into his career.
Winder at a glance
For those who aren't into PFR pages, here is him at a glance.
127 Games played, 83 starts
1495 Carries, 5427 Yards, 3.6 YPA, 42.7 YPG
Longest Run: 52 yards
39 Touchdowns
197 Receptions, 1302 Yards
9 Receiving touchdowns
Career AV: 48 (41 Weighted)
Honestly, not bad for a fifth-round pick in '82. The numbers don't tell the full story, so let's dive deeper.
1982: Much ado about a strike
Winder's rookie season wasn't stellar. Throw in the '82 strike and it gets buried forever, in an endless veil of zany and historic moments. The strike shortened the season from sixteen games to nine, resulting in networks airing a mix of past super bowls, Canadien Football, and Division III football until the strike ended. A kicker won MVP. In the end, the players won. "A new five-year agreement was ratified, providing severance packages to players upon retirement, an increase in salaries and post-season pay, and bonuses based on the number of years of experience in the league. Additionally, the NFLPA was allowed to receive copies of all player contracts." (NFL PA, Wikipedia) Winder would end up with 67 carries, 259 yards, and one lone touchdown. The Broncos finished 2-7 that year.
1983: Finding a groove
So yeah, 1982 was bad. Very bad. Bad enough to land Denver the second pick in the '83 draft. Of course, we know that Denver's choice was traded to Indy (Baltimore at the time) and John Elway would be a Bronco. Things got interesting from here. Winder showed improvement in his sophomore season, with 196 carries for 757 yards and three touchdowns, helping Denver make it to the wild card round of the playoffs. They would lose to the Seahawks. Winder contributed 16 carries for 59 yards.
1984: The statistical mountain top
Winder would earn the first of two Pro Bowl trips this season. With Elway becoming a more consistent passer, Winder was able to really find his footing. Elway's solid '84 of 2589 yards, 18 touchdowns and 15 interceptions helped open the ground for Winder to run wild. He finished 1984 with 296 carries, 1153 yards, and four touchdowns. He also included 44 catches for 288 yards and another two touchdowns. Solid season, and he could now call himself a Pro bowl-Caliber back. He'd see another one-and-done postseason however, posting 15 carries for just 39 yards against the Steelers in the Divisional round.
1985: How'd we miss the Playoffs?
The Denver Broncos won 11 games in 1985. You'd think that 11 wins is enough for a playoff berth…right? Not in '85, apparently.
After tying with the New England Patriots with an 11-5 record, the tiebreaker came down to record against common opponents, those being the Raiders, Seahawks, Dolphins, and Colts. New England finished 4-2 against those teams, while Denver was one game behind at 3-3. Sammy would finish with 199 Carries for 714 yards, with eight touchdowns to go along with it.
1986: Do you believe in magic?
Winder earned his second and final Pro Bowl nod in 1986, having a solid but not stellar season. He would run for 789 yards on 240 carries with nine touchdowns in the regular season. Winder also had a solid postseason, posting 185 yards on 49 carries en route to a Superbowl XXI loss. Winder would also help to start "The Drive," With a catch for five yards, and a combined nine yards on three carries to get Denver out of the shadow of their goalpost.
1987-1990: Everything must come to an end
1987 would see Sammy start his own construction company, "Winder Construction," which he still operates to this day. 1987 would be his second to last season as the main starter, although he only played 12 games due to the '87 strike, in which the season was shortened to 15 games, however, three were played by replacement players. He would post 196 carries, 741 yards, and six touchdowns in '87.
'88 would be his final season as the main tailback before he would later be replaced by Bobby Humphrey in '89.
1989 would see Winder start two games, while participating in all 16. He would get 110 carries for 351 yards, and two touchdowns en route to another Super bowl loss, this one a 55-10 massacre to the 49ers.
1990 would see his role diminish even more, only getting 42 carries for 120 yards and two touchdowns.
Winder In conclusion
Not every player gets to ride into the sunset. Many never see the sunset at all, suffering a postseason loss or exiting with a whimper, only to be forgotten to time. Winder would retire after 1990, in which Denver missed the playoffs. Not a bad career for a fifth round pick, though. And that's the story of Sammy Winder.
Need more fantom?
Head here!